Book Review: Ship of Magic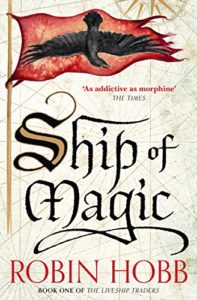 So – here's my new book review format.  Yes I've decided I need a structure.  I think it works, but you can be the judge of that.
A brief synopsis of the story.  I'm hoping that this is useful in a review, and also that it gives me some practise writing blurbs (which I'm very bad at!);
A summary of my review thoughts; and
The detail for those who are inclined to read on!
So, what about Robin Hobb's Ship of Magic?  Well, here goes.  How to summarise a book as vast as this?  Daunting…
Althea is born to sail her family's liveship, an enchanted vessel called Vivacia. But she is denied. Her controlling and jealous non-Trader brother-in-law, Kyle, denies her birth-right, and she finds herself consequently bound for a life of normality. Instead, Kyle brings his son on board to appease the loyal Vivacia. But Kyle has dark ambitions for the liveship – the slave trade – and his son is an unwilling participant. He only wants to be a priest. With Vivacia distraught at her new human cargo, she becomes a prime target for the pirate King, captain Kennit. Can he do the unthinkable and take a liveship? And what will Althea do when she learns the fate of her beloved ship?
And breathe…  This is an epic fantasy in every sense of the word – a true monster of the genre.  It has been some time since I read something this long, but once into its embrace, this never felt daunting; and in fact it flowed like silk.  It's brilliant.
When I first picked this up, I was randomly reminded of John Steinbeck's East of Eden. The first two chapters of that book are frankly laborious, but once it got going, it was impossible to put it down.  This was much the same.
Access to the book is granted by a somewhat abstract prologue from the perspective of serpents, and then some shifting POV in multiple and difficult to relate situations.  The shifts seem random to start with, and it is difficult to gain sight of the landscape, which is exacerbated by the lengthy chapters.  One has to put aside a good 45 minutes before embarking on one of the 36 chapters.  Heavy.
And it is probably the pace that was originally jarring for me.  I quite like being thrown into the deep end of a plot, bounded around the place and multiple POVs with only limited background, but the length of this experience initially dragged.
That's not to say the writing dragged – definitely not.  The prose is beautiful and flowing, really well done.  There is effortless grace in these words, and it is a pleasure to ease though the book.  Even if the length is a bit daunting!
And when I reflect on it, much of the length is down to Hobb's immaculate approach to world-building.  We learn by experience and experience alone, and this is probably the standout aspect of the novel.
The plot is an interesting one – quite small scale for an epic like this, but thoroughly intriguing.  Yet the plot actually comes across with bounds of life because of the beautiful characters, their interactions, and the subtle hints at a much bigger picture.  By the end of the book we are only shown glimpses of these bigger aspects, and they work expertly as a draw towards the next volume.  I will certainly be reading on.
All in all, a masterful demonstration of fantasy literature.  I doff my hat.