Book Review: Half the World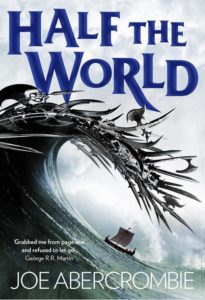 Now, to start with I am a big Abercrombie fan.  Believe it or not, I have only actually been reading in the Fantasy genre for about 5 years (despite writing, or rather attempting to write in it, for 15), and once I'd finished George R.R. Martin, Joe Abercrombie was the next big author I uncovered.  It's fair to say that I was somewhat blown away.  Here's a run-down of my Lord Grimdark love affair:
The First Law trilogy: frankly, I think this is brilliant. Fresh and with great voice, the rich mix of cultures and the breadth of the world – coupled with the epic proportions – grabbed hold and wouldn't let go.  This is still one of my favourite fantasy series.
Best Served Cold: moving onto the 'other' books seemed obvious after finishing the First Law, and I picked up this book quickly. It didn't have the same power as the trilogy, but I did like it nonetheless.
Heroes: the difficult third date. I gather from some reviews that there is remarkable military science behind this plot, which is admirable in itself.  But for me, it lacked something.  It took a while for me to read this, and by the end I may have actually been a bit bored of the tough Northmen and the inept Union.  It didn't have the same richness as the trilogy, and left me feeling a little flat; but I suspect that is taste as much as anything.
Half a King: I actually delved into this YA trilogy after Heroes, and I suspect my apathy towards the Northmen may have tainted my reading (I am making a note to go back one day). I did enjoy this, but being a YA it seemed to lack the depth of the other books.  I felt like I'd been on a slide ever since the First Law, and despite being good, it's hard not to draw unfair comparisons against something that leaves its mark like the First Law.  Maybe it was time to take a break?
Red Country: it took me a while to pick this one up, but boy am I glad I did.  The story here is different – maybe not my thing, but definitely interesting – and the new characters were pretty good fun.  But what really made this novel was the return of the one Northman you really wanted to hear about.  Oh yes, the Bloody Nine was back, and just wow.
So there may be a pattern here.  The First Law was excellent, but my attachment had been sliding since that outstanding debut.  In Red Country we bring back the Bloody Nine, and hooray – another cracker.  But is there something concerning in that?  We needed to throw in a ghost of the trilogy to really blow Red Country up, so how would Half the World fare?  Let's find out.
This YA (or cross-over in fact) trilogy is set in the Shattered Sea; as far as I can tell, this is Northman country but around a bloody cold stretch of water.  The characters are therefore distinctly Northman-like, and this left me with a problem.  I was getting bored of Northmen.
Now, in rather unique fashion, this second instalment of the trilogy focusses on different characters from the first.  Yarvi is still a big part, but he is a second tier character – albeit a very interesting and emotionally committed second tier character – rather than a focal protagonist.  So what are the new characters like?  Well, first impressions weren't great.
Thorn reminded me a little of Shy from Red Country, albeit with a more obvious aggressive streak.  But she was sultry and tough, and afraid of contact – loss was her thing.  Brand was a bit different – a genuine nice-guy – but I wasn't feeling compelled.  It took a while to get going.
And as far as I could tell, the YA aspect came from a) a strained attraction between Brand and Thorn; and b) slightly lighter language, though not substantially so.  For me this seemed to distract from the guts of the story, and the depth was somewhat absent (as I recall from the first book of this series).  Perhaps YA is not Lord Grimdark's thing?  And the story wasn't grabbing me.  It didn't have the electric compulsion of the First Law, and this left me worried.
So, was the love affair over?  Did the grey start to this book drift disappointingly into drizzle?  Was I about to fall out with Lord Grimdark?
Well no.  A seasoned professional like Joe wouldn't allow that – and this book comes to life.  It is an excellent novel.
The central portion of the book involves a journey to the Deep South, and in this passage, the scale of the imagined world is reaffirmed as they pass over mountains; through 'Mongolian' horse-men; past a rather disturbing Prince in Kalyiv; and onto the 'First of Cities'.  A grand journey indeed.  And this immediately gave the book weight and substance; a return to the sensations that made the First Law so good.
But this book was also so much more than that.  In Thorn's escalation into a 'badass-bitch' (my words), we have a real tainted heroine to grab hold of, and the sexual tension between her and Brand – the YA bit, if you like – really adds to that compulsion.  She is one twisted bitch, but in that relationship we see something familiar, and that is important in someone we need to connect with.  Brand is her lifeline.
And between them they save an Empire.  That's grand, right there.
Following this we have the return to the North, which is important because despite the adventure, this book is still about the North.  For a while I feared we may slip once more, but I needn't have worried.  There is some 'normalisation' between the return and the conflict, but we were always worried about the fate of Gettland, and that's where we end up.  And in quite spectacular fashion.
So all in all a spectacular read, and one which now demands that I finish the series; which I'm sure will be no hardship.  I may have to leave it a while, but I look forward to reading the final instalment.  Will we change the cast once more?  Maybe, and that's exciting.  But no doubt Yarvi and Thorn and Brand will feature, and that is enough of a draw.  I like them, and I want to know how they get on.
Let the battle for Gettland commence.