Book Review: The Name of the Wind
Kote is a simple innkeeper, man who hankers after the simple things. But Kvothe is a legend. And Kvothe is Kote's past. Born into a travelling family, Kvothe loses everything he knows. And he loses it to a fairy-tale. But where others would lose there mind, Kvothe finds a purpose. He finds it in vengeance. A reckless but gifted student of the University, Kvothe gains access to some of the most incredible experiences in the world. And his skills gather notoriety too. But one thing still eludes him, and while it does, he will only push harder. The fairly-tale is still a fairy-tale. His vengeance is denied.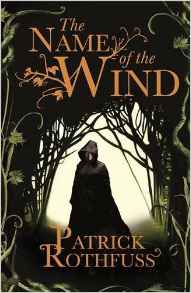 This review comes off the back of a re-read in advance of ripping into the sequel: A Wise Man's Fear.  I gave this five stars before, and my re-read has only reaffirmed this fact.  This is a fantastic book and it excels on so many different levels.  I highly recommend this series to anyone who's a fan of the fantasy genre, and indeed anyone who isn't.  Just read it already!
I read this originally a few years back, and I came across it at a similar time to the First Law series and the Lies of Locke Lamora.  And while I recall all three of these books being brilliant, for some reason, the Name of the Wind faded faster in my memory.  I'm not sure why.
Because it is brilliant.
The first thing that struck me was just how incredibly technical it is.  Technical, but effortless with it, and beautiful too.  The writing is truly exquisite, and the construction is very clever.  Maybe I wouldn't have appreciated that before, but I certainly did this time.  It's one of the reasons that this is such a pleasure to read.
Most of it is written as a memoir in close first-person POV, and so it has that intimacy that is so popular these days.  But because it's a memoir, it also enables foretelling narrative, which is used sparingly but to great effect.  And then we have the "current prose", where we meet Kvothe as he tries to keep his inn running smoothly despite his time spent narrating his life story.  This part of the book is worked omnisciently, and so it has a very distinct feel, which makes it quite complex but very well done.  It also means that the book employs a mix of classic fantasy distant narration and a more modern-feeling intimate first-person.  So it sort of bridges classic and current fantasy writing.  Amazing stuff.
And then we have our fantasy world.  Its construction is truly marvellous, and the research is so good that the entire place feels natural.  That's a tall order.  We are somewhat limited in our exposure in this novel, but everything about the place feels authentic and robust – it just is.  Even down to the units of measurement and the range of alcoholic beverages on offer, it all feels wonderfully rich.  Only Mr R knows how he came up with that lot!
And this leads us nicely onto one of the finest aspects of the book: the magic systems.  That is truly a work of art.  There are of course many facets to the magic, and there is a whole spectrum ranging from "runes" to "sympathetic energy links", all the way to naming, which feels like proper unconstrained magic.  And this is all woven fantastically into the story so that it all feels natural.  Great.
And finally, what is truly wonderful about this book is how it shows us the way in which crazy rumours can come about.  In the "current" sections of prose, we are given a taster of Kvothe's reputation, and it feels vast.  Stories are told of him far and wide.  But in the memoirs, we see the truth – he tells us the stories of where these rumours came from.  They rarely resemble the fanciful tales that are woven from town to town.
And isn't that fantastic.  We are quite literally reading the birth of stories, and then witnessing the distortion that ignorance, travel and time can have on them.  And none of this is better reflected than in Kvothe's final adventure of the book.  If I spoke it out loud here and spoiled the surprise, it would seem giant and courageous.  But the reality is that the events were actually quite silly!  That is delightful.
On further reflection, perhaps the only niggling thing about this book is its scope.  There are suggestions of a fantastic and bold story here, and although Kvothe's life is endearing, fascinating, sad, important, and thoroughly enjoyable, I was left with a sense that we hadn't really scratched the surface.  In some ways it is the perfect prequel, and one that is so good that it stands firm on its own two feet.  But there's the suggestion of what's to come, and perhaps that is why it faded a little faster in my memory – I was always thinking forwards.  And perhaps then this is barely an appetiser.  If that's the case, what a feast it will be!