Book Review: Dangerous Women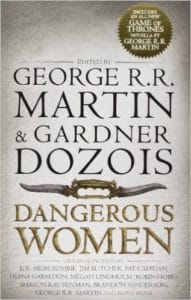 On first impressions, you rather get the impression that George R. R. Martin has been enlisted in this venture as at least part marketing tool.  Well, it worked – that's why I bought it.
And so, what of the flagship story; George Martin's novella titled The Princess and the Queen, or the Blacks and the Greens?  Well, let's just say that it isn't the highlight of this compendium.  I'm not saying that it isn't good (definitely not), and it certainly does what it intends to, but it left me a little … frustrated.  It is written in the style of a transcript, and done well in this sense, but we cover such a rapid and intriguing period of history in just eighty pages, that it feels rather distant.  In all honesty, the story relayed could command a lengthy trilogy in its own right, so eighty pages was never going to cut it.  I finished the story wondering if this is what it's like reading a synopsis, and in some sense that gave me heart; I now know the shape of the story, but that only makes me want to read the full intoxicating version more.  It turns out that the journey is more important than the destination.
Regardless, this is a must read for George R. R. Martin fans, of which I count myself one.  I'm glad I picked it up, and I hope George gets the chance to write the full literary version one day.  I will certainly pick that up.
But what of the other seven hundred pages?  What of the other short story offerings?  Well, frankly, they were brilliant.
I have never read a short story collection before, but this has whet my appetite.  It was so refreshing to jump from genre to genre, highly enjoyable, and the fact that each tiny morsel had to cut its own literary arc meant that the reading pace left you gasping; you couldn't leave a story unfinished.  I really enjoyed this book.
As you may imagine, a book titled Dangerous Women tends to chronicle the activities of women with a talent for trouble; which I find refreshing.  However, since reading this, I have looked at a couple of reviews where people complained that the women were not 'warrior elves with hulking great swords and cleavage to pierce your eyes'; but is that really what you want?  This collection of stories gives a much wider sphere of female inertia, be it sultry, subtle, or downright kick-ass.  There is certainly something for everyone in here, but if you're looking for a single blueprint, you won't get it in every story.  But then, why are you buying a collection of short stories in the first place?
So – the highlights.  I've had to think hard about this, but I think my favourite story in here is actually Megan Abbott's: My Heart is Either Broken.  It is a story in the modern thriller genre, and the female lead cut a very subtle character.  But when her claws were bared – and really only very subtly so – it was quite frankly chilling.  It's not going to make me rush out and buy a load of psycho thrillers, but it was brilliant.
Closer to home, Brandon Sanderon's piece in here was a thorough delight.  I have so far failed to indulge in Brandon's work (though it's definitely on my unwritten list), so I was pleased to get into something of his  here.  It was modern fantasy at its quintessential best – dark, with great characters, rugged surroundings, and a wonderful definition of the good stuff (magic).  This has only served to expedite Brandon's place up my list.
And then, in the magical modern genre, two pieces that particularly stuck out for me are Jim Butcher's Bombshells, and Lies my mother told me, by Caroline Spector.  Jim Butcher's work is in the Harry Dresden world, which I have also never delved into, and it was quite excellent.  The protagonist had a very real sassy strength to her, and the ease with which Jim melded the mundane and the magical was delightful.  Caroline Spector, on the other hand, writes about superheroes – but not as you know them.  It's not something I'd ever considered reading before, with a quite incorrect assumption that superheroes came in broadly one flavour.  But these unique superheroes (more like mutants) are very far from Marvel, and wonderfully complicated in their own right.  My to read list is fleshing out nicely.
Finally, special mentions to other works that particularly tickled me (but in no way lessening the other stories that I very much enjoyed): Raisa Stepanova by Carrie Vaughn, which is a quite brilliant short story about pilots in the second world war; The hands that are not there, a great sci-fi snippet that leaves you wondering; and of course, Joe Abercrombie's Some Desperado, which tells the story of Shy South, the star of Red Country – this is typical Abercrombie.
So, all in all, I highly recommend this book.  Highly recommend it.  Thanks Gardner Dozois and George R. R. Martin.