Book Review: Champion
Sanctuary's reputation has grown over time, led by the human General, Cyrus Davidon. But it is Vara, another officer with a curious prophecy attached to her, who stirs the most interest. She is targeted by a group of assassins, and is forced to flee home. Back in the Elven kingdom, Cyrus fights to keep Vara safe. And in the hostile familial atmosphere, they may actually come to accept each other for who they are. But the world is a place of war, and that war comes to their doorstep. Will Cyrus and Vara still accept all they have been through once the fighting is done?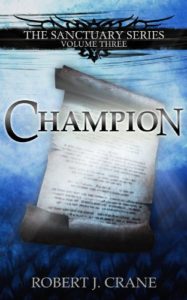 This is the third instalment of the Sanctuary series, and it is the strongest book so far.  Great!  The plot itself is more noble, and we are starting to scratch beneath the surface of this world that has been created.  This is a meatier book than the previous two, and perhaps a little fatty too, but it develops nicely and leads us tantalisingly into the rest of the series.
This is the third book in the Sanctuary series by Robert J Crane, following on from Defender and Avenger.  In this instalment, Cyrus embarks on a mission to return Vara to her hometown and save her from an order of assassins.  However, once in Termina, the war raging throughout Arkaria gets too close for comfort, and the league of assassins are still at large.  And what is the best thing about all this chaos?  It brings Vara and Cyrus closer together.  Finally.
So, what are the highlights for me?  Well, here's what I liked best.
In this book, we start to see something of a noble challenge associated with our guild, which is nice.  In books one and two, it is almost entirely acquisition-related, but here we have some substance to the action which draws us in.  We have a cause to really get behind, which pulls us on.
And the other thing that pulls us on is the development of the wider plot points.  There are some interesting questions that are answered in this book, but there are still many left hanging, which invariable encourages us on.  Great!  And we also have steady convergence between the 'now' and 'then' parts of the book, which are pretty compelling.  We have a glimpse of the future, and we want to find out how it happened.
The other great thing about this book is the range of characters, and in particular, some of the personalities.  There is some good banter between Sanctuary members, and my particular favourites are Fortin; Vaste; Aisling; and Vara's mother!  Very entertaining.
Unfortunately, Vara, as a lead character, is still a bit morose even though she's being prised from her shell, and Cyrus is still a bit goody two-shoes for my liking.  But the wide and entertaining cast make up for this.
And finally, overall this just feels a step up from books one and two as a piece of writing.  There was nothing obviously jarring here and it all hung together pretty well.  It's great to see the writing develop throughout the series.
That being said, there does appear to be a large focus on direct internal dialogue (the stuff in italics) compared to the previous two books (I confess I haven't gone back and checked!)  This is good for emphasis in places, but it feels a bit much in this book, and the placement is sometimes a bit off.  It feels at times a bit like you're being shaken between first and third person, and this is distracting.  It should melt seamlessly.
The other thing about this book is that it's pretty long, and I think much longer than the previous two.  I would say there is more to it, but it feels like it's gone a bit overweight rather than catching just the right balance.  There are passages of internal and descriptive sections which just feel heavy and in some cases unnecessary, and these slow the pace of a fast story.  Overall though, this is a relatively minor point.
Finally we have the fighting.  It still feels distinctly video-game-like, with, at one point, three versus a lot more than three and yet the three come out on top.  It's well placed by the author, supplemented by magical armour, sorcerers, reincarnation spells (the lot) but it does rather make me sigh.  Then again, this is the third book and I've read this far, so it can't annoy me that much.  This video game style fighting is what the book is going for, so it's okay in that regard, but I think it removes some of the tension from the story.
Interestingly, the next edition is taking place in a human 'exclusive-of-magic' part of the world which will be a deviation, but our crew are taking magic with them so I fully envisage the same quantity of RPG-esque carnage!
Overall I think this series is developing nicely, and this instalment is definitely the strongest so far.  I don't think this will ever be a perfect fit for me, but there are some interesting plot points developing and I intend to read on.